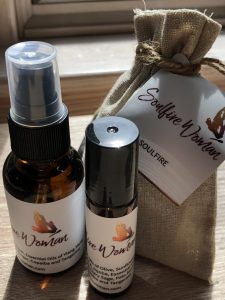 Dyanne is proud to announce, in a limited edition release, Soulfire Woman's own signature blend of essential oils inspired by the themes in her book, "Soulfire Woman: How to Torch Your Past, Ignite Your Present and Set Your Soul on Fire." Dyanne worked closely with an expert in the field of essential oils to create a blend for grounding, igniting creative flow, promoting positivity, stimulating healthy sexual desire while at the same time enhancing inner peace, confidence, patience and flexibility– Soulfire Woman Power!
Available in a roll-on, spray and travel soaps. This makes a wonderful gift!
Be the first to experience the power of Soulfire Woman essential oils!
Essential Oil blend of Ylang Ylang, Clary Sage, Palo Santo, Ginger, Copaiba and Tangerine