Adventures in Ireland | Foodie Ireland
Foodie Ireland | Adventures in Ireland
Ireland Travel, Part 5 : Ireland, The Foodie Paradise
They say St. Patrick explained the Holy Trinity to the Irish with a shamrock. I think the Holy Trinity has changed in Ireland too. It's really brown soda bread, Guiness and butter. Ubiquitous brown bread is served with almost everything, breakfast, soups, stews, chowders and as sides. What the baguette is to France, brown bread is to Ireland. I quickly become addicted to this moist, thick, nutty bread. Pushing hard to open a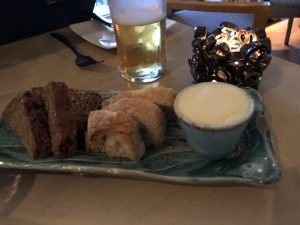 door in a shop one day, the owner quips I need more brown bread to fortify me.Oh, she's getting it, My Guy informs him.Guinness needs no explanation. It's a food group in Ireland and good for you they say. Then there's butter. It's like you get a pint of Guinness and a pint of butter with your meals.There's butter and/or cream in everything here, sautéed, baked, spread. No need for olive oil. And oh my, the cheeses. One might argue that the Holy Trinity would include potatoes. You do get chips (french fries), mashed, boiled or roasted potatoes with your meals, sometimes all together.At home I don't really consume much dairy, bread or beer. With all three combined this had to be the gassiest trip we ever went on together. We too put enough methane gas into the air to contribute to climate change. Other than that minor inconvenience my complexion never looked better so something must have been working for me.
The smell of fresh coffee and warm fires greet you in most restaurants and pubs. If there isn't traditional music other music is playing mostly 60s Motown and 70s music. Johnny Cash is referenced a lot. With the soup of the season on every menu, I sample it wherever we go. Always pureed and, you guessed it, cream -based, the soup is served with brown bread: potato and leek; carrot and coriander; pumpkin and Thai spice, vegetable. My favorite was the potato and leek at McCarthy's in Kenmare. And then there were the seafood chowders and pies, fresh, delicious usually including salmon, a popular fish there along with Hake. Of course we eat the obligatory fish and chips and do comparison tests. My Guy is into everything beef and lamb and has his share of Irish Stews and Shepherd's Pies, the best lamb pie in Clifden at Mitchell's. Dingle and Kinsale top my list for best meals, although there is good food everywhere, and to be fair we did not eat dinner out in every location opting to eat in many nights. The first night we shared prawns in a spicy chili sauce on a bed of lettuce that was fresh and new to our palates. This prawn dish is served up all through Ireland. Also served all through Ireland and on every pub menu is chicken curry, too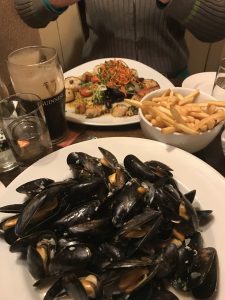 funny. Chicken curry and Ireland don't seem to go together. Curry sauce is poured over other things as well like fresh cod. At Anne's Seafood in Dingle we eat the most delicious scallops and mussels. Dinner at Doyles produces a beef shank slow cooked for 18 hours that fell off the bone with no fat whatsoever. I have a delicious seafood stew with whole prawns. The best oysters tasting like the sea came from Bulmen's in Kinsale. My Guy teasingly asked the waiter if he gathered the oysters himself. Oh no, he said, that's at five in the morning and one bay over, too early for me. Fresh from the sea.
We also eat at Dunbrody in County Wexford, a cooking school and Michelin recommended hotel and restaurant. It looks like a manor estate and has a Ralph Lauren hunt style look and feel inside. My Guy has a pigeon appetizer tasting a lot like liver, and if you like liver, is very good and a duck leg confit for dinner. My main course a vegetable ragu which amounts to about three tablespoons of mostly beans with carrots and parsnips the size of half a crochet needle with the greens attached. Good flavor though.The price you pay for Michelin inspired creativity I guess.Beautiful atmosphere. My Guys' grandfather told him once you can't eat atmosphere though. Another thing you do not associate with Ireland are the cheese and meat plates.So good. Certainly challenging Italy for the number one spot.Real bakeries in every town with scones, orange and carrot cakes, fruit tarts all made with, you guessed it, lots of real butter.If you didn't know, Irish butter has more fat in it than ours which makes baked goods even more delicious.
A young bartender, they are all young, at the pub in Dunbrody chatted with us and told us 80% of the Irish go on to college. I think this may include technical school. He said many go abroad and work, for example, mining in Australia, and then return home to their parishes with enough money to build a modern house and start their own businesses. We had noticed all the school students wearing uniforms and ask about Catholic schools. He said they are National schools; however, do teach Catholicism which they are trying to change. You find bookstores in most larger towns and thick newspapers available. The Irish seem to be well-read and educated and willing to talk to anyone. We are most asked about our President who apparently is not very popular across the pond. One man wants our president to know Irish Dairies own 150 farms in the US and trade and commerce work both ways. Ok, I'll let him know.
This is Part 5 of my Ireland Travel series. Read Part 1, Part 2, Part 3, and Part 4!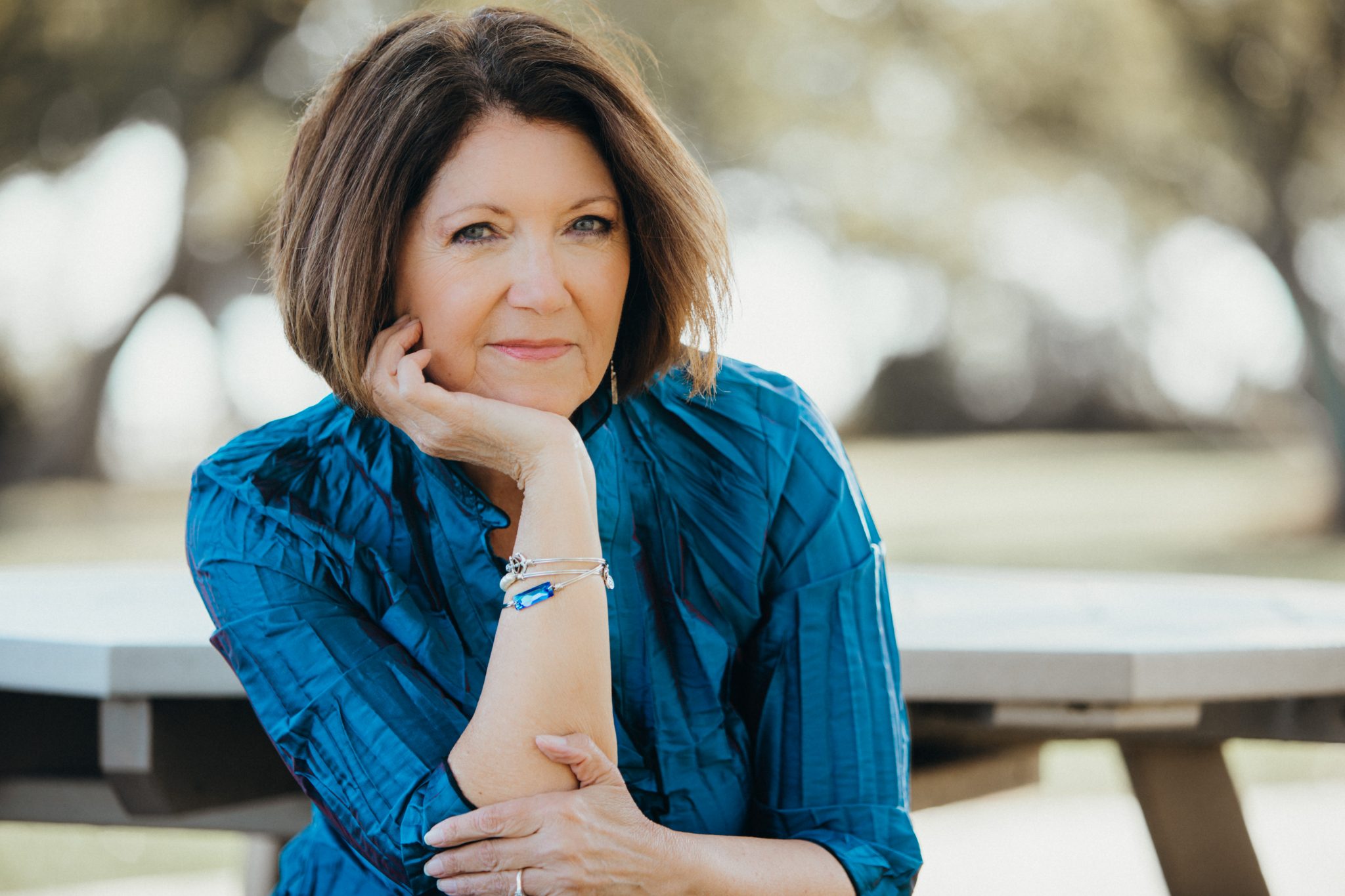 Dyanne Kelley
Soulfire Woman
I'm Dyanne Kelley. You can find me @soulfirewoman where I share my musings, wisdom, coaching, mentorships and soon-to-be book, "Soulfire Woman: How to Torch the Past; Ignite the Present, and Set Your Soul on Fire." For a sneak peek at the first chapter, fill out the form below. And shoot me your comments. I love to read your feedback.